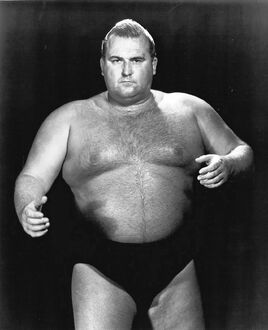 Dr. Jerry Graham was a legendary wrestler as one half of the Golden Graham / Graham Brothers tag team with Eddie Graham in the Northeast for Capitol Wrestling in the 1950's, and has cemented himself in cult status on the 6:05 Superpodcast due to humorous discussions about his erratic and personal antics behind the scenes in wrestling, which include frequent public drunkenness, his affinity for answering the door nude, and the popularization of "The Dr. Jerry Graham War Cry" and "Rant", involving a lengthy tirade about cursing a foe with accusations of varying sexual acts perpetrated towards that person's family members, more specifically, their mother, pregnant brother, and sister.
Origin on the 6:05
Write the first section of your page here.
Relationship with Kurt Brown
Kurt Brown first mentioned in episode 50 that his first run-ins with the Doc occurred in the early 1980's after driving the Doc home from a show near Bakersfield, CA.
Idiosyncrasies, "The War Cry", and "The Dr. Jerry Graham Rant"
A staple of Dr. Jerry Graham stories on the 6:05 relate to the overall mannerisms and demeanor of the good Doctor during his sobriety, and equally, his times of inebriation.
"You sucked your mother's pussy, you cornholed your pregnant brother, and you fucked your pregnant sister, you whore!"
Photos and Videos