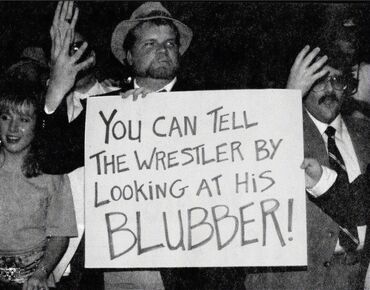 Front Row Section D with John Hitchcock is a recurring segment on the 6:05 Superpodcast featuring famed fan - and one of the Greensboro "Front Row Section D" - John Hitchcock, in which he details stories throughout his years as a heel-loving fan in the Mid-Atlantic / JCP-NWA era in Greensboro, which include his disdain for Magnum T.A. and creating an unflattering sign for him one night, creating the name 'The Four Horsemen' which would be adopted by the legendary stable, and known for his humorous exchanges with babyface - but real life heel - Dusty Rhodes.
John's book about his legendary fan interactions in wrestling - "Front Row Section D" - can be purchased through Amazon.
Segments:
Episode 78 - John details the night that he and the rest of his friends in Front Row Section D christened Arn, Tully, Ole, J.J., and Ric Flair with their synonymous name: The Four Horsemen.
Episode 79 - John describes his dislike of Magnum T.A. being pushed down the fans throats as a babyface, and details an incident with Magnum disliking a less-than-flattering sign and a run-in with Harley Race in Greensboro.
Episode 81 - John details the final WCW event in Greensboro, which coincides with a legendary fan story regarding a Squeegee.
Episode 83 - John talks about him and his friends being the perennial thorns in the sides of both Nikita Koloff and Dusty Rhodes.
Episode 86 - John discusses the importance of the 1975 Mid-Atlantic U.S. Title Tournament to the Carolina's, and Dusty Rhodes' anger towards his group upon his return to WCW in 1991 when Front Row Section D goes "on tour!"
Episode 91 - John discusses his Top 5 favorite tag teams, along with more Front Row Section D tales of ribaldry.
Episode 92 - John discusses Wrestle War '90 and "We've Herd Enough!" along with the time when Jerry Garcia came into his shop to buy some comics.
Videos:
#1) Episode 78 - Corky Dan (2:38:44)
#2) Episode 79 - How Is This Legal? (1:22:56)
#3) Episode 81 - Squeegee (2:12:13)
#4) Episode 83 - Rat Poison (1:13:08)
#5) Episode 86 - Nobody Knows (1:28:30)

#6) Episode 91 - Wandering Around (1:51:29)
#7) Episode 92 - Lords Of The Ring (0:13:39)