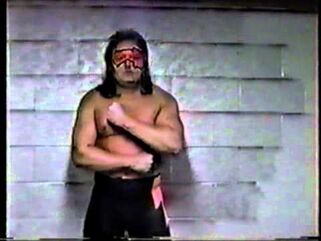 Godbold is a current Superuniverse Top 10 character, based off of the nonsensical and poorly recorded promos of real life "wrestler" Kacy Dex aka Godbold from the mid to late '90s, sent to Beau James - the King of Kingsport.
Origin
Godbold was first mentioned on the show during Episode 10 by TGBL referencing weird and strange wrestler promos sent to different promoters during the 1990's, spinning off a conversation the two had about the absurdity of the Rock n' Roll Roy Toy series of videos sent to Beau James. During Episode 11, guest Jim Cornette corroborated Beau's story, stating that he got tapes from Godbold as well, specifically of him playing his guitar in front of a brick wall, where he remarked that there was some sort of holographic or reflective tape on the neck of the guitar that was shining into the camera.
The next major Godbold update came during Episode 31 during a news and notes segment regarding some posts sent to TGBL by a listener of the show, who explains that Godbold had claimed: to have slammed Andre the Giant, that he "fell off" the roof of the Charlotte Coliseum, that he had cracked his skull a few times, that he was the second Ultimate Warrior, and that Vince had fired him from the WWF for doing a Burger King commercial without telling him beforehand. Godbold had also been seen at a Cauliflower Alley Convention wearing a jacket that was legitimately stolen from Brutus Beefcake. One of the more funnier tall tales of Godbold had him claiming that he was trained by Jim Crockett to wrestle, and then was proceeded to be locked in a cage and forced to eat dog shit for long periods at a time.
Facts
Total appearances in the Superuniverse Top 10: 0
Links
Follow the parody account on Twitter @GODBOLDUNREAL