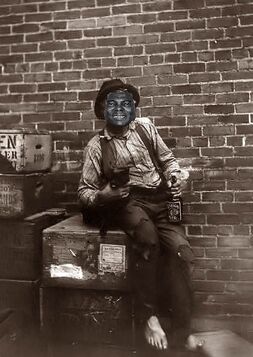 Hobo Brazil was a former Superuniverse Top 10 character and topic for the show, based off of the wild and knockoff gimmicks created from the mind of former wrestling promoter Jack Pfefer.
Origin
The real life origins of the character were that of a creation of wrestling impresario and promoter Jack Pfefer, being a knockoff of real-life African American wrestler Bobo Brazil.
Very little footage and newspaper clippings exist of the various Pfefer knockoff gimmicks, but according to Tom Burke, he has in his collection one of the very few matches of Hobo Brazil on tape. On Episode 56 - during a break from talking about Tom's relationship with Dr. Jerry Graham - Tom mentions to TGBL that he has a wrestling program and tapes from a Tony Santos TV taping in production with Magna Films around 1965-66 from the Boston Arena, with one of those matches being Ron Dupree vs. Hobo Brazil.
Facts
Total appearances in the Superuniverse Top 10 : 1 (Episode 24 - #9)