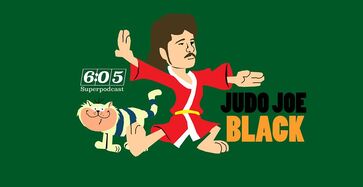 Judo Joe Black was a former Superuniverse Top 10 character based off of the real life wrestler of the same name, whose Superpodcast claim-to-fame comes from a commentary video between TGBL, Bix, and Jim Cornette, with Judo Joe being the unlikely participant in a squash match against Ken Patera in the WWF. Judo Joe Black is panned by the crew due to his terrible selling, overall lack of coordination, and the strange fact that a jobber had an actual gimmick instead of something normal and bland.
Origin
During Episode 26 - with guest Jim Cornette - after the Dennis of the Week segment, the guys do live commentary on a few matches: one involving the infamous Patriot, and the second being the introduction to Judo Joe Black vs. Ken Patera from a WWF taping in May 1985 with commentary by Vince McMahon and Bruno Sammartino.
TGBL opines that it's bound to be "a sensation" with the listeners, and lived up to that for being as close a sensation to "cringe" as possible in a wrestling match. Jim immediately points out that Joe "doesn't have a fucking clue how to work" and it was noticeable in the weak lock-up with Patera. During the match, Black keeps quickly holding one hand to his face, whether to simulate that he's embarrassed, or that he's wiping sweat from his face. TGBL, Bix, and Jim all laugh in hysterics when it comes to Black taking a very phony head bump into the top turn buckle by Patera, jumping up almost a second after the initial hit, and falling to the mat with minimal speed and minimal form ala Marion Crumley. The match finishes with the crowd booing, and Patera going to prop Black up on the top turnbuckle, but since he doesn't know how to work, Black ends up standing straight up on the top turnbuckle, to which Patera throws him over his head and into the middle of the ring for an elbow drop and the 1-2-3.
To finish the video, Jim and TGBL discuss in wonderment as to why he was given an actual gimmick - that of a Karate/Judo fighter - instead of a general name and bland jobber appearance. It is unknown if Judo Joe Black worked any subsequent tapings that night, or thereon for the WWF.
Facts / Miscellaneous
First appearance in the Superuniverse Top 10: Episode 27 (#3)
Last appearance in the Superuniverse Top 10: Episode 30 (#6)
Total appearances: 4 (Episodes 27-30)
RETIRED - Judo Joe Black was voted out of the Superuniverse Top 10 by TGBL following Episode 70 due to lack of support for an extended period of time.
Links / Media