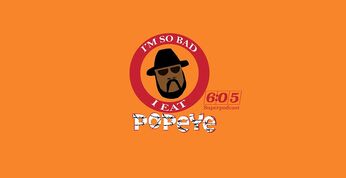 Mad Dog Boyd was a former Superuniverse Top 10 character based off of a promo in Memphis wrestling following the introduction of the Bruise Brothers (consisting of Boyd and Pork Chop Cash) by manager Jimmy Hart, in which Boyd's unintelligible promo in his gruff voice made it seem like he said he was "so bad that he eats Popeye," instead of "barbed wire."
Origin
Mad Dog Boyd was first mentioned in Episode 15 during a What If...? segment - featuring guest Jim Cornette - involving a topic on what would have happened if the Bruise Brothers (Pork Chop Cash and Troy Graham "the Dream Machine") ended up going to Mid South wrestling in 1984 as originally intended, but didn't due to Dream Machine breaking his ankle.
Jim mentions that the Bruise Brothers in 1983 Memphis was originally supposed to be Pork Chop Cash and Iceman King Parsons - Pork Chop showed up to WMC 5 and Parsons ended up going to World Class where he had a prominent singles run. Cornette states that there was a guy "who would hang around the parking lot for months" and had worked outlaw shows in Mississippi, who was Mad Dog Boyd. Jerry Lawler asked Jimmy Hart - who was supposed to manage the Bruise Brothers - to go see if he fit the suit, and Boyd was brought in to the studios to fulfill the role.
The corresponding promo described by Jim Cornette states that Mad Dog's accent was incredibly thick and southern, that when Jimmy Hart asked him how 'bad' he was during the introductory promo, he replied gruffly "I'm so bad I eat Popeye," referring to the chicken chain of the same name, which had TGBL and Bix in hysterics. Afterwards, Jim states that Jerry Lawler had asked Boyd why he said he would "eat Popeye," to which Boyd replied the same thing. It turns out that he was actually attempting to say "I'm so bad, I eat barbed wire." The unintelligible saying and delivery turned out to be a point of humorous content for TGBL and Bix, who ended up finding out that he ended up teaming with Pork Chop and Tracy Smothers in Mid South, and came back to Memphis as well following the stint in Louisiana.
Facts / Miscellaneous
Total appearances in the Superuniverse Top 10: 1 (Episode 19 - #7)
RETIRED - Although Mad Dog Boyd was successful in defeating Robby V in a Loser Leaves Town match following Episode 30, he eventually faded out of the Superuniverse Top 10 shortly thereafter.
Media