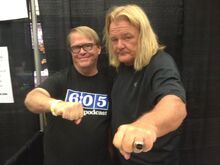 Scott Cornish is a frequent co-host and contributor to the 6:05 Superpodcast. Scott first appeared in the co-host chair on Episode 37, after having been mentioned several times in previous episodes.
Characters
Scott has voiced the characters of Sheila The Shooter and Impressionist Jim Ross. Impressionist Jim Ross' "questionable" impressions include the likes of wrestling characters Jimmy Valiant, "The Genius" Lanny Poffo, Terry Funk, "The Big Cat" Ernie Ladd, The Grand Wizard, and Gordon Solie.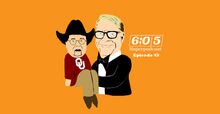 Since the hiatus of the Impressionist Jim Ross, another prominent character portrayed by Scott in the Top 10 appeared, and he goes by many names: "Handsome Jimbo," "Charlie Brown Not-From-Outta-Town," but is mainly known as The Handsome Boogie Man. Handsome loves to clap frequently, maintains an upbeat attitude, and has a fondness for glass coffee tables.
Links:
Feel free to follow Scott on Twitter through @ScottCornish2 .