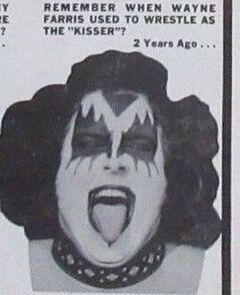 The Kisser was a former Superuniverse Top 10 character based off of one of the multiple gimmicks that the Honky Tonk Man - Wayne Farris - went through at the beginning of his career in Memphis, brought on partially as a rib from his cousin Jerry Lawler to dress in KISS attire and continuously stick his tongue out ala Gene Simmons of KISS during his matches.
Origin
The story about The Kisser was first brought up on Episode 53 - the 1st anniversary show - by co-host Jim Cornette, after being posed a question by TGBL - after listening to Antichristo for the first time - about the worst gimmicks that Jim had ever seen during his time in wrestling.
During one of Wayne's multiple week-only gimmicks, Jim recalls that he was shooting photography ringside and was puzzled upon reading the card that "The Kisser" was in a match, leading to the ring announcer - who doubled as a local DJ - to worriedly ask Jim if it was some kind of flamboyant character who would come out and try to kiss the men.
Jim describes that when he went to the back to take a look, he saw Wayne Farris dressed up in a black body stocking, THE KISSER in the KISS font painted on his chest, and his face done up in Gene Simmons face paint, all done by Jerry Lawler, a noted artist. TGBL and Jim humorously debate whether or not it was an intentional rib by Jerry on his cousin Wayne, exacerbated by the fact that Jerry told Wayne to continuously stick his tongue out ala Gene Simmons during the match, which probably led to Wayne biting it or cutting it during the various bumps. Jim then goes on to say that The Kisser was gone the next week, and Wayne Ferris was relegated to another aimless gimmick of different tights and ring gear for the time being.
Facts / Miscellaneous
Total appearances in the Superuniverse Top 10: 0
RETIRED - The Kisser was voted out of the Superuniverse Top 10 by TGBL following Episode 70 due to a lack of support over an extended period of time.
Media